NEWS

⌁ APRIL 2019:DADA POGROM LIVE AT HEX
April 6 is my birthday and åtåmåtån party HEX.
Kabinett.25, Wrangelstr 25, Berlin.
Live:
Dada Pogrom
DJ:s: Fredi Sirocco and Ella åtåmåtån
FB event
.
⌁ MARCH 2019:ååå202
Romance Disaster - Girls-Guns EP.
Remixes by Millimetric and Ethan Fawkes.
12" ååå202 release date March 8 2019.
12":
atamatan.bigcartel.com
Digital:
atamatan.bandcamp.com
⌁ FEBRUARY 2019: DJ SET AT TANNENBAUM
Together with DJ Draamaqueen I do a synth DJ set at bar O Tannenbaum, Hermannstr 232, Neukölln, Berlin Thursday February 7.
⌁ AUTUMN/SPRING 2018/19: GRAPHIC NOVEL
I'm enrolled in
Skarpnäcks Folkhögskolas two one term courses in making comics
.
First I'm finishing the adult picture book "The Mother of Pearl Cloud" ("Pärlemorsmolnet"), then I'll make my graphic novel "Night of Fireworks" ("Fyrverkerinatt").
Illustration from "The Mother of Pearl Cloud":
⌁ NOVEMBER/DECEMBER 2018: HORROR CHRISTMAS CALENDAR
I've been selected to be one of the authours in
Mirarmir Publishings horror Christmas calendar
for 2018. Read the horror Christmas calendar
here
.
⌁ NOVEMBER 2018: EXHIBITION
Three sentence long stories that I've written inspired by
Karoline Schneider's
photos are part of the group exhibition
Murmures
at erste erste gallery
.
⌁ OCTOBER 2018: TAST ZINE
My illustration "Wolf Tales" is featured in
Tast Zine,
an online zine promoting women's contribution to the literary arts.
⌁ OCTOBER 2018: NEW POSTERS
Two new posters are added to
my shop
of an emperor penguin and a glass frog on the theme of heartbreak. Emperor penguins are known for the softness of their heartsand glass frogs have visible hearts.
⌁ OCTOBER 2018: SHORT STORY COMPETITION WINNER


My short story "Nattalek" ("Nocturnal Games") won second price at Fantastiknovelltävlingens competition. The three judges motivation:

"'The Red Riding Hood' as a thriller. And as prose poetry about the forest. It's so beautiful and horrible, skulls and bones roll forward in a small derelict cottage under thick branches. The text is twisting and tiptoeing through beautiful nature and the dark night like the sneaking wolves. The language is amazing!"

"An amazingly beautifully written story about a magical Red Riding Hood and Wolf in a dark forest. The text is loaded with beautiful metaphores, so the story is partially pushed into the background. But toward the end Red Riding Hood grips the plot and drives it resolutely into the goal. It's a good read."

"The ancient fairytale about Red Riding Hood and the wolf is vitalised and have got new, sharp teeth. The story is atmospheric, poetic and brutal at the same time. The ending is an orgiastic surprise that puts this short story above most."

"'Rödluvan och Vargen' som rysare. Och som prosapoesi om skogen. Det är så vackert och så hemskt, det rullar fram dödskallar och benknotor i en liten förfallen stuga under täta grenverk. Texten snor runt och tassar genom skön natur och mörk natt som de smygande vargarna. Ett helt fantastiskt språk!"

"Fantastiskt vackert skriven berättelse om en trolsk Rödluvan och Vargen i en dunkel skog. Texten dignar av vackra liknelser, så att berättelsen bitvis hamnar i bakgrunden. Men mot slutet griper Rödluvan tag i handlingen och kör den resolut i mål. Skön läsning."

" Den urgamla sagan om Rödluvan och vargen vitaliseras här och får nya, vassa tänder. Berättelsen är stämningsfullt skriven, poetisk och brutal på samma gång. Slutet är en orgiastisk överraskning som verkligen höjer den här novellen över mängden."


⌁ OCTOBER 2018: VAGINA DENTATA
I'm an official member of the horror network Vagina Dentata.
"My best horror tips are Suspiria and Lucifer Rising." Ella Moe is an illustrator (and the mother of the logo for the festival Monsters of Film) and an author of horror movies and short stories and three sentence long stories. She's also a record label boss. The print is called "Antler and Tear".
Vagina Dentata
on
Instagram
and
Facebook
.
⌁ SEPTEMBER 2018: DJ SET FOR NEW AGE RAGE AND FOR GOTH & GOLD
For
New Age Rage at Berlin Community Radio
I made the DJ set "Stargazing with my Walkman" featuring unreleased material from Dada Pogrom, Madonna+Child and Zagreb7Ø, also Ende Shneafliet - Animals from Outer Space, Second Planet - Never Never Land, Kleines Astronautenmädchen - Solitude FX, JYL - Universe, and more. It aired September 27.
Listen to it at
New Age Rage at Mixcloud
.
⌁ AUGUST 2018: KALABALIK FESTIVAL


åtåmåtån will DJ at Kalabalik for the Thursday party 23/8. You can listen to it here. The ååå101 7"s will also be for sale.


⌁ AUGUST 2018: åtåmåtån SHOP
Premiere for my two record label shops! One is for vinyl and the other for digital:
Big Cartel
|
Bandcamp
⌁ AUGUST 2018:
RELEASE PARTY

Proudly presenting new material from

SÓLVEIG MATTHILDUR

live.
Release party for Ella's new record label åtåmåtån!

DJ set by the one and only

CHRIS KALABALIK

.

Welcome to a perfect pre party for

the Kalabalik TIQ party

.

Free entrance - tips welcome. Drinks and music on the other side of the looking glass. Also, premiere for the 7" music video. Red is encouraged.
August 11, 7 pm,
Kabinett.25
, Wrangelstr 25, Xberg, Berlin.
FB EVENT
.
⌁ JULY 2018: STAMPED åtåmåtån PHOTO BACKGROUND
Gritty stamp courtesy
Beatkamp
.
⌁ JUNE 2018: BEATKAMP/åtåmåtån DRONE SYNTH
Introducing the dangerously excellent pentatonic drone synth, kindly made by
Beatkamp
. Enjoy it basking in the sunset, powered by a stone.
⌁ JUNE 2018: TEASER FOR åtåmåtån 7"
I made a teaser for my record label
åtåmåtån
's first release:
⌁ JUNE 2018:ETSY BIRTHDAY SALE
20% off 18-22/7
.
⌁ JUNE/JULY 2018: ART EXHIBITION
I'm featured in the group exhibition scHmERZ on the theme break up art. I participate with risograph prints.
June 16 - July 12 2018
Vernissage: Saturday 19:00 June 16
Finissage: Thursday 19:00 July 12 2018
Kabinett.25, Wrangelstr 25, Kreuzberg, Berlin
⌁ JUNE 2018: PRINT FOR MISTERDRESSUP
Araneae for Misterdressup.
⌁ MAY 2018: åtåmåtån 101
The first release of my new record label
åtåmåtån
was sent to the press, a 7" with
Sólveig Matthildur
.
⌁ MARCH 2018: ADDED A BOOKLET...
A
pastel caramel
has been added to
my shop
.
⌁ FEBRARY 2018: HELLO ELLO
Named Ella, joining
the creative platform Ello
seemed like a thing to do. So far I must say I feel quite at home.
⌁ JANUARY 2018: DJ GIG IN REYKJAVIK
My DJ set from
Affliction/Absolution
at Gaukurinn, Reykjavik is recorded and up on Mixcloud.
Listen
.
⌁ JANUARY 2018: FLASH FICTION ON INSTAGRAM
I started the Instagram account
@bythelamppost
for three sentence stories. It's a project that I've thought about realising for the longest time. I want it to have a fairytale like feeling, as though I'm writing about a world that might be just out of our reach, like that of Narnia.
The name, By The Lamppost, is inspired by "The Chronicles of Narnia" by C.S. Lewis:
"This is the land of Narnia,' said the Faun, 'where we are now; all that lies between the lamp-post and the great castle of Cair Paravel on the eastern sea."
As a child I loved this books uncritically. The love is still there, though it's no longer uncritical.
⌁ JANUARY 2018: DJ GIG IN REYKJAVIK
January 6 I DJ minimal synth and obscure 80's at the
Affliction/Absolution
after party,
at Gaukurinn, Reykjavik.
⌁ DECEMBER/JANUARY 2017/2018: WINTER BREAK
20/12 - 20/1 my
Etsy shop
is in hibernation. Orders made after 20/12 -17 will be shipped after 20/1 -18.
I will be in Iceland, admiring mountains.
⌁ DECEMBER 2017: KABINETT.25 ART FAIR, BERLIN
Three weekends I participate with four golden risograph prints, two of which are brand new.
Kabinett.25, Wrangelstr. 25, Xberg, Berlin.
FB event and more info
.
Kabinett.25
.
⌁ DECEMBER 2017: NEW PRINTS
To
my shop
I've added two new riso prints and also made a big sale... My black and gold riso print collection is growing, yum.
Etsy shop
.
"Antler and Tear" and "Aurora Borealis":
⌁ OCTOBER 2017: BACKGROUND
I spent a weekend drawing a 100x70cm large photo shoot background. It was weird fun.
⌁ SEPTEMBER 2017: TECHNO
The result of the photo shoot in in July for Rituals, Suicide Circus. My face ended up on a techno 12" together with the bestest Sina.
⌁ SEPTEMBER 2017: FLAT GOLD
My print "Nocturnal Zeppelin" is for sale at
Flat Gold
shop.
⌁ SEPTEMBER 2017: ETC
For Swedish magazine
ETC
I was interviewed about horror in contemporary art and mention witches, raves, fairies, rituals, urban dystopies, paranormal romance, Monsters of Film, goth, synth, metal and Caitlin T McCormack in less then 700 letters including space.
⌁ AUGUST 2017: NEW POSTERS
Three new posters made for
my shop
, metallic gold risograph prints with white details, "Renaissance Astronaut", "Nocturnal Zeppelin" and "The Mother of Pearl Cloud".
⌁ AUGUST 2017: TAST FANZINE
Three gut inspired illustrations that I made for risograph printed
Tast Flash Fiction Fanzine
.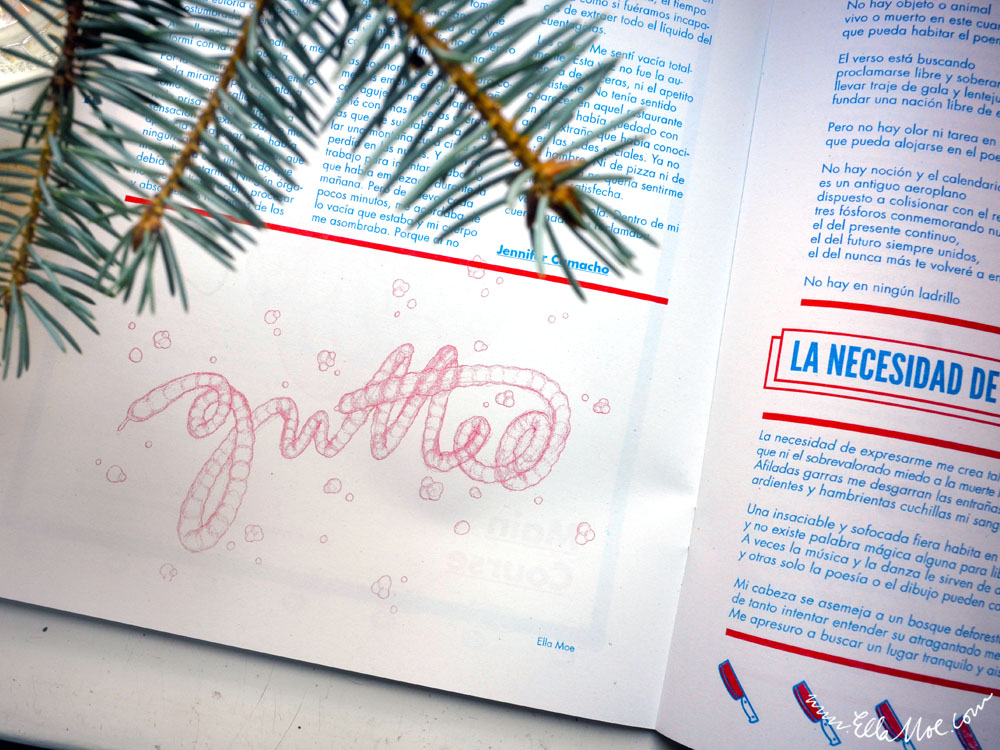 ⌁ JUNE 2017: SAD SUNDAY
A logo I made for a Berlin based club concept.
⌁ MARCH 2017: WOMEN IN HORROR
I participated in an exhilarating panel debate about women in horror arranged by
Monsters of Film
at Kulturhuset, Stockholm.
Psst! My illustration "Storm Child" is on the big screen.
⌁